Turnitin is a plagiarism detection system.
It can help you to check submitted papers for text matches to following sources:
Current and archived internet content
Professional, academic and commercial journals and publications
Student previously submitted papers
Turnitin: http://www.turnitin.com/
---
Turnitin will be discontinuing support for Internet Explorer (IE) starting August 31, 2020. After August 31st, you will still be able to access Turnitin products using IE, but Turnitin products will no longer be updated to work seamlessly on the IE browser. Please begin accessing Turnitin with a different browser at your earliest convenience.
---
(1) If you are adjunct professor, research assistant, or teacher in KMU, doctor or nurse in KMUH, you need to apply for an instructor account. Please mail your name, KMU/ KMUH ID, department and KMU/ KMUH email to erm@kmu.edu.tw, we will create an account for you.
User guide: How to use Turnitin (for instructor) (instructional video)
※Please upload your Turnitin submissions to "no repository "
(2) If you are KMU student, please log in to E-Resources system and follow the steps in the picture below to create a student account by yourself.
※Please register with the school mailbox (@kmu.edu.tw/@gap.kmu.edu.tw), otherwise it will be deleted from time to time
User guide:How to use Turnitin (for student)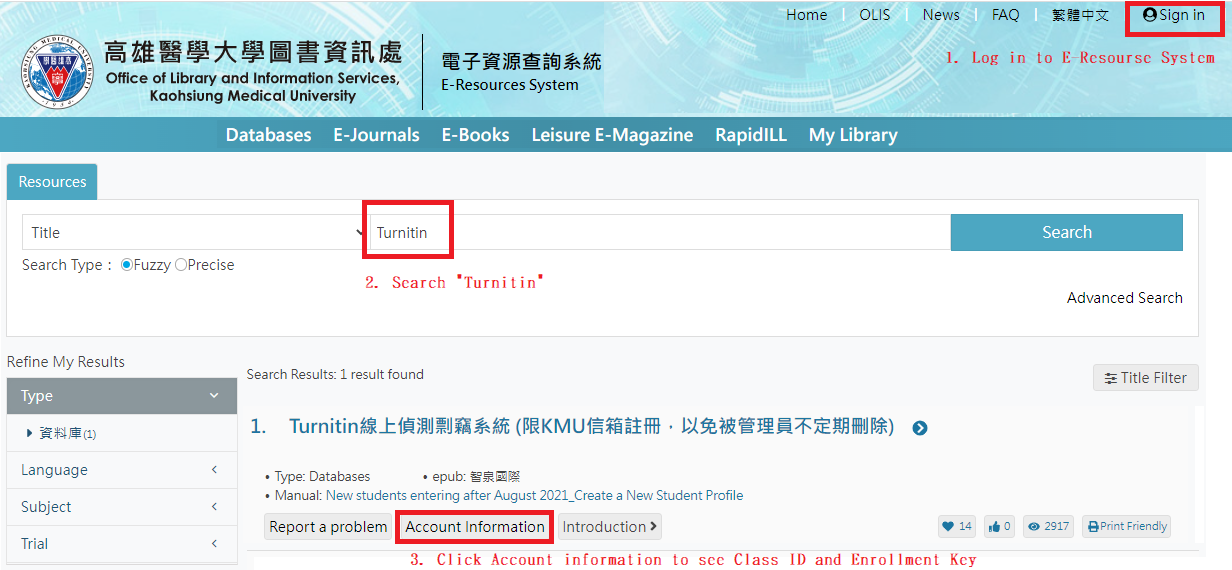 ※Youtube- how to use Turnitin (teacher version)
If you have any questions, please mail to erm@kmu.edu.tw, or visit the office on library 3rd floor.