RAPID ILL
RAPID is an organization of libraries mainly from the universities in the United States dedicated to fast and cost-effective resource sharing.Requests for articles from journals submitted through RAPID ILL service will be delivered often within 24 hours.Developed by the Morgan Library of the Colorado State University, RAPID ILL now has over 100 members including libraries from Canada, Hong Kong and Taiwan. KMU Office Library and information Services is a member of the RAPID ILL community.
Valid Applicants
KMU faculty, staff and students.
Application Notes
Request for photocopies of western journal articles only.

First, check the E-Resource to make sure that the required materials are not available within the Library.

Please fill in the journal title in its full name no abbreviations, corresponding ISSN and all the required fields in the request form and submit the application online. Your requests will then be forwarded to the RAPID ILL.

Please pickup the apply documents at Library Circulation Desk within two weeks after you receive notified email. Users will be suspended use right to Rapid ILL service for one month when he or she have not pickup the documents over twice.
Fee Schedule
Currently it is free of charge for KMU faculty, staff and students. Each person can request up to 10 documents per day or up to maximum 20 documents per month.
Turnaround Time
Requests sent through Rapid ILL will be filled mostly within 1-3 days on a normal business day. The actual time varies depending on each librarys working schedule.
Ask a Librarian
Library Circulation Counter
Tel: 2133 #82

E-mail: elton@kmu.edu.tw
---
Use the system
Online application URL:RapidILL
User:Student or Faculty ID
Password:

Identification number(The first word is written in English ) or residence certificate number
If you've logged into the KMU Information Service, please log out first before clicking on the link.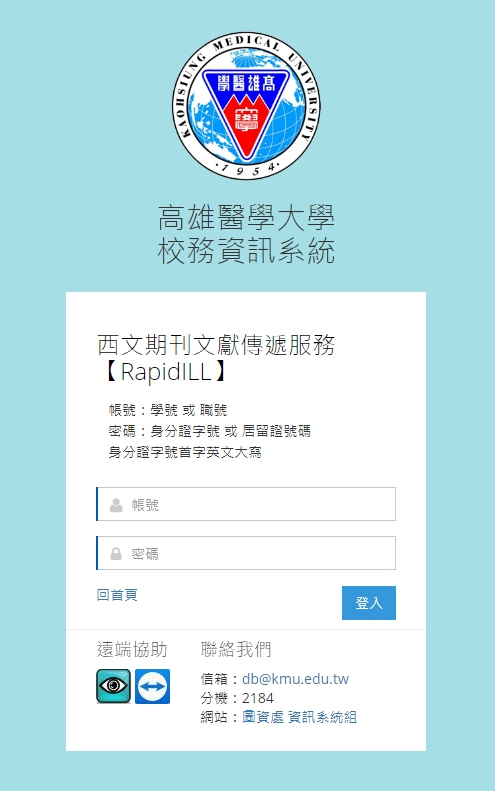 ---