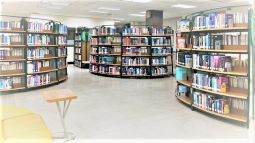 Course Reserves lists,Click the barcode number or 電子書(ebook) to link Library Catalog.
---
The Guideline of Course Reserves Area
Purpose
The course reserves area was established to provide the students with a space to study and review their materials.
Location
The area locates on the second floor fo rear building.
Use

The textbooks are open-shelved and allowed to be used within the area only. When finishing using the textbooks, please put them into the book trolley for the staff to reshelve.
The area is equipped with photocopying machines, computers and scanners. Please respect the Intellectual Property Rights when using the facilities.

Book Shelving

The textbooks area is divided into two parts - Course Reserves and Integrated Curriculum Textbooks. All books are classified and placed by Call Numbers.
Each textbook is labeled with its affiliated college at the cover spine of the book. For example: 教授(醫)

The link provided below will show the lists of the course reserves and integrated curriculum textbooks.

Notes

Smoking and eating are prohibited in the area. Any behavior causing damage on the facilities or carrying books out of the area intentionally will be considered against the Office of Library and Information Services' regulations.
Computers are provided for readers to search the library catalogs as well as academic resources. It is not allowed to download information illegally. Using chat online, browsing porn websites, or playing online games are also prohibited.
Keep your own personal belonging with you. We are not responsible for any losses.
---
If you have any questions, please contact us.
TEL:07-312-1101#2133
E-Mail:acq@kmu.edu.tw
Office Time:Monday~Friday 8:10~12:00;13:30~17:30