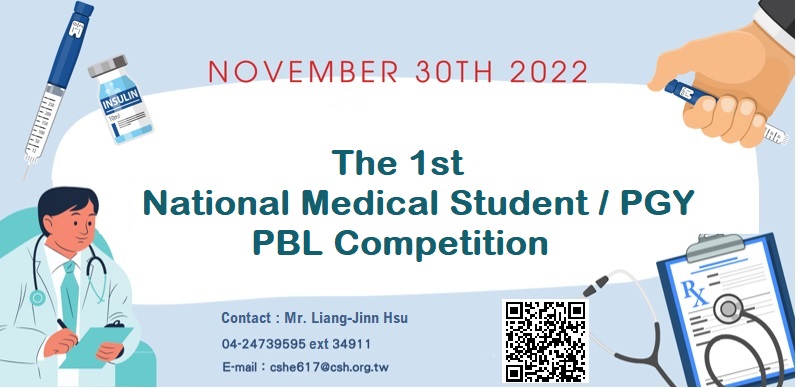 (Click the picture above to enter the event page)
Categories and Eligibility: Participants are divided into two groups according to their status.
(1) Medical-students group (including UGY): Medical students of medical colleges across the country, limited to 20 groups registration will be closed when the spots are filled.
(2) PGY group: PGY from all hospitals in Taiwan, limited to 20 groups, registration will be closed when the spots are filled.
Competition rules:
(1) The number of members for each video is limited to 1-3;
If any member of the group is PGY, they are not allowed to enroll in group of the medical student. The PGY group can include medical students.
(2) Each person/group can submit up to 2 videos.
(3) Video submission (Part 1 and Part 2 must be included in order to compete)
a. The total length of the video should not exceed 12 minutes, and the file format is limited to MP4 files, less than 500MB.
b.Part 1 of the video: Please present your interaction with the library (library, resources, librarians), with a limit of 2 minutes.
(Unlimited creativity, use your imagination)
c. Part 2 of the video: Participant can select a medical clinical topic, based on the spirit of PBL self-learning, and make a video by integrating the knowledge you have learned to solve clinical problems, with a limit of 10 minutes.
(Relevant videos, only for reference, are available: Video 1 / Video 2 )
(4) The participants must clearly indicate in the video the relevant reference sources cited.
(5) The words "Taiwan Medical Library Association PBL competition video, for teaching purposes only" must be clearly marked in the video.
Please
register online before 23:59 on November 30, 2022

,
until the spots are filled.
Organizer:
Taiwan Medical Library Association
Implementer:
Office of Library and Information Services, Chung Shan Medical University Library / Library and Digital Center, Chung Shan Medical University Hospital
Counseling Unit:
School of Medicine, Chung Shan Medical University/ Department of Medical Education, Chung Shan Medical University Hospital